Bucket Elevator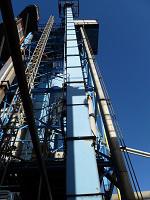 Our product quality will elevate your performance to new levels. Shock loading, abrasive dust particles and extreme temperatures are just some of the challenges faced by bucket elevator applications on a daily basis. Lost production costs can easily run into the tens of thousands of Euros during unplanned downtime, meaning that reliability is key. Working with Tsubaki to specify chain and sprockets for your bucket elevator will ensure an engineered solution which will answer all of the needs of the applications.
Lifetime is increased thanks to the use of extremely high quality materials, while Tsubaki's unique Match and Tag measuring service is able to accurately match chain length of parallel pairs for improved efficiency and performance. Tsubaki works with OEMs to supply chain and sprockets to some of the tallest bucket elevators in the world, and has been specified as an aftermarket supplier to many more.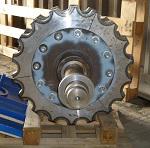 Tsubaki has even developed a segmented sprocket solution which splits to three sections, which drastically reduces maintenance time as replacement is possible with the chain remaining in place. Premature or unexpected failure is simply not acceptable in an application where access is so limited. Tsubaki engineers design and supply solutions which offer easy installation, improved safety and longer running life.
Increased Reliability for Bucket Elevator
When a bucket elevator manufacturer was experiencing reliability problems with its backstop clutches, resulting in intensive maintenance and frequent replacement, it turned to Tsubaki for a solution.