Tsubaki and the Environment
Environmental Policy - TSL
Tsubaki India Power Transmission Pvt. Ltd., which is a subsidiary of Tsubakimoto Singapore Pte. Ltd, part of the worldwide Tsubakimoto Chain Company in Japan, is committed to assemble and supply products in an environmental responsible manner. These processes will be managed to minimize the environmental impacts where we can reasonably expect to have an influence. All products and processes are in full compliance with the applicable environmental laws and regulations.

To reach continuous improvement on environmental areas, we have, as a Group company, implemented an Environmental Management System that is in line with the overall Global Tsubakimoto Chain philosophy and policy. The Environmental Management System follows the requirements of ISO 14001:2015.
We continuously improve our Environmental Management System by monitoring and reviewing our goals to prevent and reduce environmental impact. We strive to continuously improve our processes with the objective to reduce or eliminate the use of environmentally damaging products or materials and with the objective to save natural sources.
Tsubaki Eco & Eco
Through our products, we promote environmentally friendly operations together with our customers and contribute to their profitability.
Tsubaki's Eco Products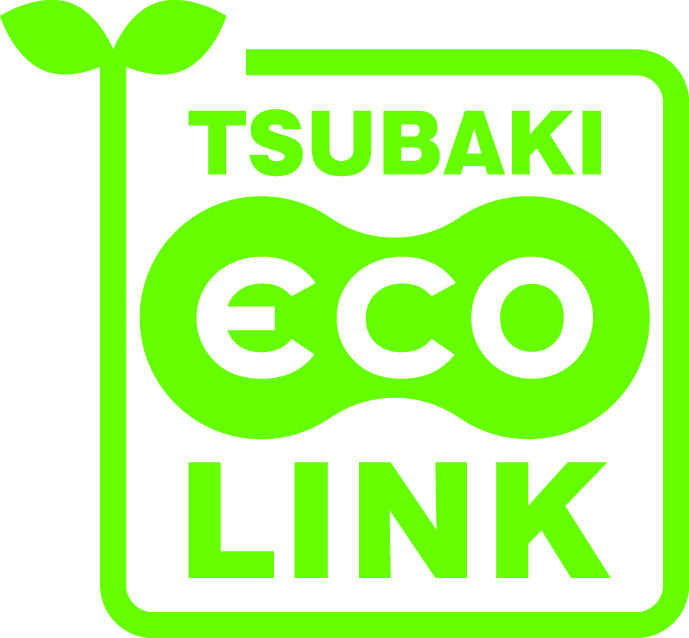 Tsubaki has created a string of unique environmentally friendly products with excellent durability, light weight, and power transmission capacity. Tsubaki products are developed under our own voluntary eco assessment standards. As of 2011, all new products are required to meet these standards. Products that clear the standards are called "eco-products" and are labeled with the Tsubaki Eco Link logo.
Eco Link Products
With the aim of developing eco-friendly products capable of helping to reduce environmental impacts ("Ecology") and increase value for our customers ("Economy"), Tsubaki has established its own voluntary eco-friendly concepts consisting of seven Eco Assessment Criteria. This helps resolve productivity issues for example by tackling environmental considerations such as long service life by improving ease of maintenance and other ecological factors. Our eco assessment standards are prepared following these concepts, and products that meet these standards are referred to as eco-products.
Certifications